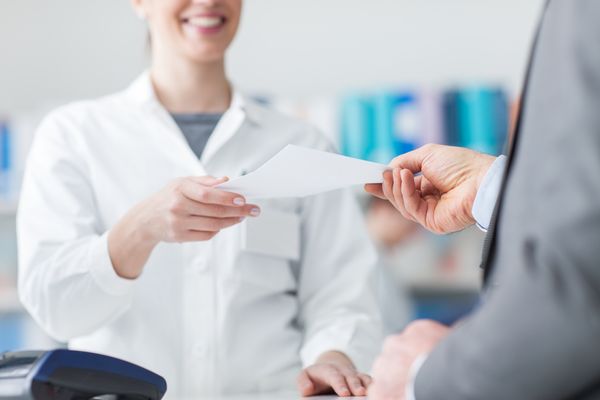 Medical Records
Allow Best Buy Drugs to eliminate the hassle of maintaining and filing your residents' medical records. Imagine…no more peeling, sticking, faxing or searching through thousands of physical records. No more illegible notes, omissions or outdated information. Just instant, accurate information — when you need it, where you need it.
Best Buy Drugs medical records services include:
Real-time access to medication and treatment administration records, physician order sheets and psychotropic drug monitoring sheets
Online ordering to save time and resources
A customized database with the medication profiles of each of your residents for medication safety, efficiency and regulatory compliance
Web-based individual patient records detailing each prescribed medicine
Electronic medical records to improve med pass and record MAR, TAR and POS information legibly and instantly
Best Buy Drugs Pharmacy Services
Best Buy Drugs is a locally owned, independent pharmacy specializing in Long Term Care, Specialty and DD Waiver pharmacy needs. We have the training and the experience required to meet the special needs of patients who need extra medication assistance. We are committed to providing solid support for good health. We are dedicated to being a dependable part or your program along with you, your physician, and those close to you. Our highly trained staff of pharmacists and support staff can help with your questions about medications or your insurance plan. Along with our above-mentioned services, we also specialize in patients with mental health conditions, offering medication packaging to increase compliance and improve outcomes.
As specialists in Long Term Care, Specialty and DD Waiver pharmacy, Best Buy Drugs understands the unique needs of these populations. Among service features are specialized packaging for accurate, efficient administration of medications is second to non, bringing the best there is to you, your clients and your families.
For more than 15 years, communities and facilities all over New Mexico have relied on Best Buy Drugs for their Long Term Care, Specialty and DD Waiver pharmacy needs. To address and respond to the changing world of Long Term Care, Specialty and DD Waiver care Best Buy Drugs continues to lead the industry in these divisions providing a variety of services and products.
We look forward to serving you and getting better acquainted with you. Communication is vital in every good relationship, so we encourage you to call us with any questions or concerns you may have.
As a part of this commitment, you can expect the following from us:
Prompt delivery of new medications or changes to preexisting prescriptions
Reasonable prices
Ability to bill all Major insurances including:
All Medicare D Plans
New Mexico Medicaid (DSHS)
Most Commercial Insurance plans
Constant review of medications for accuracy, interactions, correct dosage, etc.
Prompt answers to any questions
Personal attention – your calls will be answered by our staff, not our answering machine
A pharmacist on-call 24 hours a day in case of emergency
Best Buy Drugs is committed to providing your residents a high level of service. This includes residents of Skilled Nursing Facilities (SNF), Assisted Living (AL), Adult Family Homes (AFH) and Rehabilitation Facilities.
Our Services Include:
Specialty medication packaging
Clear and transparent billing of medications and supplies to patients and facilities
Consultant Pharmacist for:

on-site chart reviews
staff training and inservices
Policy and Procedures
Survey Compliance

MAR and Physician Order forms
With our in-house fleet of delivery drivers and vehicles, we can provide you with daily deliveries along with urgent
Deliveries as needed.
24 hour Pharmacist on call for Emergency needs